The Story
Page 2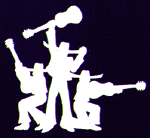 Here's where it gets a little mystical. Some time in 1986 I was on the most horrendous road-trip of my life. I was taking a friend of mine back to her college and ended up getting very lost on the way home.
If you're ever lost in Davenport, Iowa just kill yourself! It's a whole lot easier than getting the inhabitants of that town to tell you where the interstate is. And don't even try asking how to find ILLINOIS! Ridiculous! Needless to say I was very late returning to my home and my folks were worried.
To make matters worse I was in the middle of a break-up with my first serious girlfriend and her university was on the way home. Like an IDIOT I took a little detour from my already awful trip to have one last argument with her. Why not? After a few hours of senseless bickering about NOTHING I headed home and pulled into my driveway at 5:00 am.
My parents were crazed and furious, as any parent would be. I had a hard time explaining why there were no working telephones in Iowa and I couldn't call. As I told the story my Dad called the police to let them know I was safe at home (Understand that I was NEVER late for anything. This was a traumatic thing here.) After all was settled and I was on my way to bed, my Mom handed me a small gift-wrapped package. She told me they'd found it waiting for me on the doorstep earlier that day. There was no card or writing on the package at all. I opened the gift and found a copy of 'The Best of Louie Louie' inside. I decided that it was just 'magic', having no idea where it came from. I listened to the cassette for weeks afterwards, finding much amusement in the various renditions of the song. It had really helped me forget about my break-up and got me invited to a lot of parties! Much later I found out who had sent it to me, but by then I'd decided that 'Louie Louie' had some sort of celestial connection to me. Its soothing powers would always be there for me if I needed them. I know it is corny, but it made sense at the time.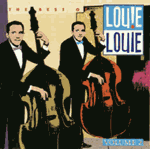 What sealed the deal came about 2 ½ years later. I recently had another bad break-up, this time with a girl I had every intention of marrying. I was truly devastated. I found myself with a close friend one day at a record store. I decided to check for any new 'Louies' out there and found that Rhino Records had just announced their plans to release 'The Best of Louie Louie Vol. 2'. The announcement was sent to the store on the same day that my girlfriend had dumped me! Well, hell, why shouldn't I believe that 'Louie Louie' was MY song? It certainly seemed obvious to me.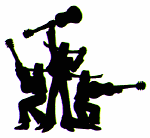 Since then, there have been many times where that awful song was there to cheer me up. I have no other explanation for it. 'Louie Louie' and Andy Martello were destined to follow each other forever. Hell, it's better than having a stalker! I don't choose to fight it I just embrace it as one of the many unusual things in my life. I was born under the sign of Gemini. Gemini, the twins! Who's to say that the twins aren't both named Louie?
Louie Index | FAQs | The Story | Louie Facts
Rock n' Roll Poker | The List | Top 10 | Links