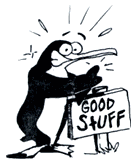 Andy Recommends
'Free Enterprise'
One of the funniest movies I've seen in a LONG time! It's perfect for sci-fi fans, avid readers of comic books, William Shatner, and others. Speaking of Shatner, (Now don't think I'm crazy here!) this is the ONLY time you'll see a stellar acting performance from him. No kidding! William Shatner doesn't overact ONCE! Of course he plays himself and that could have something to do with it. If you liked 'Swingers' but felt it lacked the magnificence of a 60's television icon reading porno magazines and drinking heavily, then you'll like 'Free Enterprise' very much.
'Andy Kaufman Revealed', by Bob Zmuda
A very insightful look into a most intriguing comic mind. This book is WAY BETTER than the crap that Bill Zehme wrote on Kaufman and I'm sure it's more fun than the 'Man On the Moon' movie. There are many hysterical anecdotes and secrets revealed in this most enjoyable book. Anyone know why the only authors to ever write books about Andy Kaufman have the initials B.Z.? Coincidence or conspiracy? YOU make the call.
'Malcolm in the Middle'
I can't begin to tell you how funny this show is! This show is over-the-top with its interpretation of teenage life as the middle child. This show kicks 'The Wonder Years' right in the sack! A very funny show! Check it out on FOX.
Ting
A tasty carbonated grapefruit drink available in Jamaica. Heck, I recommend Jamaica in general! The wife and I went there in January and we can't stop talking about it! Ting is great, Mon. If anyone out there knows if it's available in the U.S. PLEASE tell me where to get it!
Bella Donna's Restaurant, Negril, Jamaica
The BEST food ANYWHERE! That woman can cook!
'That 70's Show'
Another very funny show from FOX. It has a hot redhead, plenty of 'Star Wars' and disco references, and a theme some by Cheap Trick. What more do you need? Although the original theme song was MUCH better I still love this show.
The Simpsons
ANY SHOW, ANY SEASON! Still one of the best-written television programs ever.
The Complete Stax/Volt Singles Vol 1
This is a fantastic nine-CD set of soul and R&B music! You get all the best recordings from Sam & Dave, Booker T. and the MG's, Otis Redding, and many others. Great music if you have a date over. It is nearly impossible to resist these songs.