Comedy Links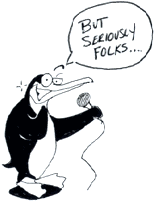 Comedy Net - http://www.comedynet.com/
"A cool site with many fun things for comics of all shapes and sizes."
Chicago Comedy - http://www.onelist.com/group/chichahahago
"This is an online group of Chicago Comics. Truthfully there's not much support or friendship to be found here but you can occasionally get some tips and info about opportunities available in Chicago...and many discussions about 'The Karate Kid Pt. 4'"
Shecky Magazine - http://www.sheckymagazine.com/
"An excellent online magazine devoted to all forms of comedy. Very cool!"
Chicago Comedy Works - http://www.ChicagoComedyWorks.com
"A fine organization bringing you the best in Chicago Comedy for several years now. I've appeared in several of their shows and will always support this group. Check out their shows at the Elbo Room in Chicago. See the Chicago Reader for show dates & times."
The Big Fat Nude Hippo Show - http://www.NudeHippo.com
"What can I say? It's a local comedy show that's been a successful program on cable for awhile now. They're trying to take the show to a larger audience and this is the site to find out news about all things Hippo. When I'm rich & famous Entertainment Tonight will have dug up some footage of my appearances from this show. I'm securing the 'burn rights' now!"