Comedy Hot Spots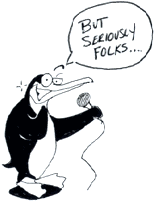 Chicago is a great place for an artist to be patronized. Wait that came out all wrong. Chicago is a great place if you're a patron of the arts!
The comedy scene, while not what it used to be, is still very active. If you're looking for great comedy shows Chicago is the place for you.
There aren't as many comedy clubs as there used to be but there are a lot of bars and restaurants that feature comedy nights. Chicago is also the home of many fantastic improv troupes and theatres as well as several touring shows that are well worth the ticket price. For complete listings of what's happening in Chicago I recommend checking out the Chicago Reader Online (http://www.chireader.com/). They list EVERYTHING artistic that's going on in the city. It's a great resource.
If you don't feel like leaving this site (Aww, you're so sweet!) I'll give you some of my recommendations. These are simply my choices and opinions. Do with them what you will. New comics will want to check here often for news & information on new rooms, open mikes, auditions, and more.
Comedy Clubs

While Zanies is the big chain here, boasting 3 Chicago locations, I can't say that you're getting the best bang for your entertainment buck here. You will always get great national acts and occasionally some fine local talent. However, if price were an issue I'd suggest staying away from Zanies. Comics, you can grow very old waiting for your chance to perform a guest set at Zanies. Even if you get on stage (and do well) you can grow even older waiting for a booking. It's frustrating! But they have new management there so give it a try. Bottom line…they're the big boys and you will want to keep trying.
My choice for best comedy club would have to be…

Barrel of Laughs
10345 S. Central, Oak Lawn, IL
Showtimes: Friday: 8 & 10pm, Saturday: 7:30 & 10:00pm, Sunday & Thursday: 8:00pm, Wednesday: 8:00pm
Located in the south suburb of Oak Lawn, it is the longest running comedy room in Chicagoland. This place has been the starting point for more of today's best comedians than any place else. It's a great place rich in tradition. It has that classic comedy club feel to it. Shows are on Wednesday through Sunday. They get some great national acts as well as local talent. The club is attached to Senese's restaurant and there's always good food there. You can plan a fun evening's worth of entertainment and not spend a small fortune. Wednesday is 'New Talent Night' and you're sure to enjoy many great new comics perfecting their craft. Comics, Bill Brady runs the place and he'll treat you like a professional so long as you act like a professional. He's generous with his stage time and is always willing to give new guys a shot. He has only a few simple rules to follow and I suggest that you follow them to the letter. You will have a better time learning here than most every other club in the city.
Other great clubs for your consideration are…

The Funny Bone
Radisson Hotel, 3000 Warrenville Rd, Lisle, IL
Showtimes: Friday & Saturday: 8:00 & 10:30pm
This is another national chain club but it never forgets that you've gotta start somewhere. It's a beautiful room and they always have great acts. Comics, they usually have a new talent showcase once a month and they keep the list of performers to a minimum so call ahead and book yourself early.

The Elevated
2833 N Sheffield, Chicago, IL
Showtime: Wednesdays at 8:30pm
While not technically a comedy club it has featured some excellent comics for several years now. It's located at Philosofur's on Sheffield in Chicago. No food but great drink prices and MANY pool tables if you can't stand the comedy! It claims to take comedy to a higher level but truthfully I don't think you'll see much difference between The Elevated and any other comedy club. There's not a whole lot of avant-garde comedy in there, but it is all very funny and that's the important thing. Low cover charge, cheap drinks, and good comedy…what more do you need? It's a great and affordable place to see some of the finest talent ANYWHERE! Check out their website! Comics, The Elevated is famous among Chicago comedians for featuring the same group of performers week after week. It is very much a 'comedy clique' inside (Which is a shame since nobody is getting rich off of working this show.). Don't let this get you down! Caine Collier and Henry Scott run the place and are ALWAYS willing to put up new people. They're both great guys and extremely talented people. They want to put on the best show every week in order to keep the place running. Understand that comedy in Chicago is a cutthroat business. Opportunities are few and far between. This show was started as a way to give talented people stage time without having to go through the humiliation of being turned down by Zanies and the others. They are very good to the comics who've supported their efforts and the room. That's why you'll see so many repeat performances there. If you ask, you'll get your shot.
Open Mike Nights
There are many of these showcases throughout Chicago. Since there's never a cover charge it's a great budget-buy for the frugal. Unfortunately, these rooms sometimes open and close so quickly that you may miss them. Check the Reader to be sure. The following place is the current champion in Chicago. Check them out.

The Red Lion Pub
2446 N. Lincoln Ave., Chicago, IL
Showtime: Thursdays at 9:00pm
Take my word for it, this is THE BEST place in the city to see fantastic comedy. Mark Geary, a comic himself, has put together the most professionally run open mike night in the world. The intimate room turns into a genuine comedy club thanks to his tireless efforts to promote live comedy. Keep in mind, it is still an open mike, so you'll be seeing mostly new comics trying their hand at this difficult profession. However, through the years many working national acts have stopped by to try out new material and there are many exceptional comics to be heard. There's also some great food served there and a huge bar will curb your thirst. Shows are every Thursday night at 9:00pm. Check it out. Comics, Get there early and make sure you get a good spot on the list. As this room gets more popular, the number of comics who want stage time increases. Some nights go well past midnight. There's no cover charge and the place will stay open so long as there are people eating and drinking there so PLEASE bring friends whenever possible! We don't want to lose this place. Mark tries to run a tight ship so follow his guidelines and don't go over your allotted time. Mark keeps track of every comic's appearance there on his computer and he'll not put you up if you continue to overstay your welcome. He has also started an online community for Chicago comics. You can sometimes get good info on new events and auditions at this site (Although, comics tend not to play well with others so there's not always a lot going on there.). If you'd like to sign up for the list click the link here.
Other Great Shows

Pat McCurdy
http://patmccurdy.com/
Beat Kitchen, Belmont & Hoyne, Chicago, IL
Showtime: Mondays at 10:00pm
Cover Charge: $5.00
Pat McCurdy is one of the greatest entertainers on the planet. He works about 320 dates a year and features some of the funniest and most insightful songs you'll ever hear. He has a very loyal following and features a fun-filled, interactive show that you'll never forget. The Beat Kitchen is a great bar with fantastic food. You'll have a great time every time you see Pat. He also has a great website. Click here to check it out. Comics, this is a great primer for your week of kissing club owner's butts and pursuing a career in comedy. Take Monday off and enjoy being schooled on every aspect of the art of comic performance at this show.