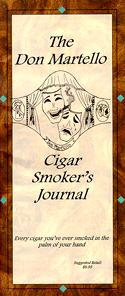 Don Martello Cigar Smoker's Journal
The Don Martello Cigar Smoker's Journal is the BEST way to keep track of the premium cigars you smoke.
You can log all the important details of up to 48 cigars in this convenient pocket-sized book. But it is much more than a simple journal. There are sections for your own reviews as well as easy methods for logging the cigar's country of origin, where it was purchased, how much it cost, plus many more exciting features.
It is the perfect accessory for the cigar smoker. It provides everything but the cigar!
Features include:

Ring Gauge and Ruler-Measure the length and diameter of your smokes.
Glossary of Cigar Terms-Easily makes you a well-versed cigar smoker.
Checklist of Major Brands-Perhaps the quickest way to remember what cigars you've tried.
Address Book-Catalogue up to 12 of your favorite cigar shops.
Don Martello's Quick Rating System-You can rate the cigars just like all the big boys in the magazines.
Perhaps the best feature is the unique Cigar Band Chart. Here you can save your cigar bands (using adhesive tabs conveniently included for you). The chart creates an eye-catching character sketch of your cigar history (it looks VERY COOL once it's filled).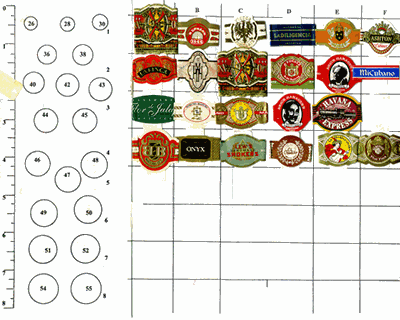 On top of all that, it's a funny and informative book, filled with quotes, pictures, and anecdotes relating to cigars. You will have a great time reading every humorous passage.
The Don Martello Cigar Smoker's Journal is not only a great gift but it is also a great guide for gift givers. If you're tired of getting boxes of El Productos for your birthday, use your Journal and conveniently leave it somewhere where your wife is sure to find it. Inside she'll be able to quickly find your favorite cigar, where she can buy it, how much she'll spend, and more. Compact sizing makes it easy to carry and use. There's NO EXCUSE for getting lousy cigars as gifts ever again! It is the perfect tool for the gift giver in you family.
My family designed this product with the everyday cigar smoker in mind. It is named after my Father. He was a devoted teacher and a lover of fine cigars. He was also a 'regular guy' just like you. With this book we combine his love of educating with his love for cigars. Everyone who has used it has loved the wit, practicality, and the touching way my family has chosen to honor and remember my Dad. It's a fun and informative book, perfect for cigar smokers of any age.
The best part of all is that it is very affordable! It costs only $9.95 at most retail stores. If you decide to purchase one through this web site you'll only have to pay $6.95 plus $1.00 shipping and handling, cutting out the middle-man altogether while saving you money! What more could a spend-thrifty smoker like yourself ask for? Hey, I said that you get everything BUT the cigar! Don't get greedy!
If you'd like your own copy of the Don Martello Cigar Smoker's Journal:
Include the complete address you'd like the journal(s) sent to (US orders only!)
Include $6.95 plus $1.00 shipping and handling for each journal
Make your check out to Change Your Luck.
Mail your order to: Change Your Luck, C/O Randy Hayward, P.O Box 123, Winter, WI 54896
Allow 4-6 weeks for delivery
If you own a store and would like to carry our happy little product please let me know. We offer great wholesale prices and low minimum orders!
Stores Where You Can Find The Don Martello Cigar Smoker's Journal (These folks may be out of it and haven't placed their re-order yet! So ask for it by name. If they don't want to continue to carry it anymore...stop shopping there! I know that I'll stop advertising them here!)
Around The World Cigars & Gifts, Park Ridge, IL
Sporty's Beverage Connection, Effingham, IL
Main Street Gourmet, Oxford, OH
Campus Center, Oxford, OH
Tobacco Outlet, Hamilton, OH
Tobacco Barn, Paducah, KY
Kentucky Tobacco Outlet, Paducah, KY
Yesteryear Tobacconists, Carbondale, IL
Briar & Bean, Governor's Square Mall, Clarksville, TN
Mosko's & The Muncheonette, Elliston Place, Nashville, TN
The Tinder Box, St. Clair Square, Fairview Heights, IL
Habana House of Fine Cigars, Devon Ave, Chicago, IL
Tobacco Road, Harding Mall, Nashville, TN
Pardon me for this...I don't have the name for this last one. I didn't make the sale, but it's the LARGEST indoor humidor north of Detroit, Michigan. If you stop at a cigar shop on the way to Mackinaw Island...IT'S THERE!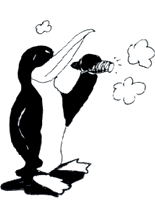 Manufacturers, Vendors, & Other Industry Professionals!

We are looking for distributorship of this product. We are all to thinly spread out these days to sell it ourselves (especially with my demanding entertainment schedule). Please contact us if you're interested in selling this great smoking accessory.
This is the first run of the book. We're looking for financial backing to make improvements and increase sales. We also have MANY fantastic ideas for developing other products including cutters and a line of Don Martello cigars. We have some designs for some cigar cutters that are better than anything you've ever seen! We need someone in the biz to help us develop these great products. Serious inquiries, contact me at andy@andymartello.com.


Cigar Home Page | Introduction
Don Martello Cigar Smoker's Journal
Cigar Tips | Cigar Comedy | Martinis | Cigar Links