Cigar Tips and Tricks
Tip of the Month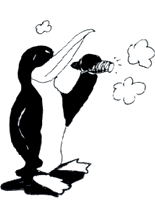 This month's cigar tip comes to us from puro4pauli, a Village Idiot and great guy. Judging from his helpful hint I can also assume he's a pretty resourceful fellow as well. This is a great way to cut your cigar if you're in a bind and have no cutter on you(AND if you're not one of those 'bite-and-spit' savages!). Thanks, pauli!

"Forgot your cutter and don't like to bite? I always carry a Vector Parker Pen and it makes a great cigar punch. Most any steel barrell pen will do. I disassemble the pen and the threaded male end is tapered and sharp enough to punch a clean hole in the cap. Then I just blow out or pick out the cap and re-assemble."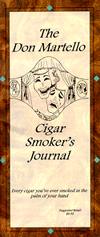 Keep Track of the Cigars You Smoke
Keeping some sort of journal or log of your cigars is a good idea for any smoker, especially if you're new to the cigar world. I promise you, you will not remember the name of the great cigar your buddy gave you at the bar! Even if you just save the cigar band you'll do yourself a great service the next time you want to smoke that same cigar.
The BEST way to catalog your smoking preferences is to use The Don Martello Cigar Smoker's Journal.
Submit Your Tips!
Got a great cigar tip? Send it along to me! If I use it as my Cigar Tip of the Month I'll send you an assortment of cigars from my personal collection. Send your suggestions to andy@andymartello.com. Be sure to write "CIGAR TIP" in the subject box and leave me your snail-mail address. I promise your personal information will not be given to ANYONE! I just need to know where to send your cigars! PLEASE! Only submit ideas if you're 18 years of age or older.


Cigar Home Page | Introduction
Don Martello Cigar Smoker's Journal
Cigar Tips | Cigar Comedy | Martinis | Cigar Links